This is episode 4 in a series where I'll be taking you on the journey I had that started in the fall 2016, lasting over a year and going through four different countries.
I woke up 8:00 AM feeling slightly refreshed and ready to start the day. I had a shower and went downstairs to enjoy my free breakfast in the lobby, most places in Ho Chi Minh include a very small breakfast in the price of the room, usually a banana pancake, egg omelette, or a Vietnamese bun with a fried egg plus a Vietnamese coffee or tea. I order the bun and egg with a Vietnamese coffee, as I'm feeling extra hungry having only eaten airplane food for the past day and think this will maximize the amount of food I get.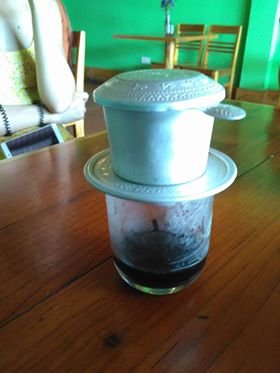 Following breakfast I decided I would go explore the area a bit. After looking at Google Maps I noticed there were quite a few parks, markets, restaurants, and museums all within a 20 minute walk of my guesthouse. Perfect I thought, as I had more than enough things to occupy my time for the next few days while staying here.
As I make my way down the alleyway towards the main street, I'm studying the offline map I downloaded in an attempt to look like an experienced traveler when I start walking towards my first destination. Soon after I take my first right out of the alley I made the dire mistake of initiating eye contact, something as a Canadian I'm guilty of doing far too often, with a man who has parked his scooter near the sidewalk in which I'm passing.
"Hello! Where are you going, my friend?"
"I'm heading to the War Museum."
"Do you need a ride? It is very far."
"No thank you. I'm used to walking everywhere and I want to enjoy the sunshine."
"Mister, I can take you there. I have given many rides to many tourists before."
He proceeds to take out a journal he's amassed over the years from different people giving their testimonial for this little man, who is trying to convince me to hop on the back and take me away. At this point I'm extremely skeptical after hearing only negative things about taxi drivers that take advantage of foreigners when taking them around.
"Look, I have given many rides to people from all over the world."
He frantically flips through the pages, while glancing up at me to make sure I'm still looking, hoping I'll be convinced when he comes to a certain page.
"Here. I've given rides to lots of Canadian's."
Dao was an excellent tour guide. He brought us all over the city and showed us most of the famous landmarks. -Julia Saskatchewan, Canada.
Like this is supposed to sway my decision to hop on the scooter with him. As if seeing a review written by some chick from Saskatchewan is supposed to make me feel better. Besides, I want this to be about exploring the city alone. Experiencing things my own way, without much outside influence.
I close the book and hand it back to Dao.
"I appreciate your offer, but I still think I'm going to walk to the Museum."
"My friend, are you sure? I can give you a ride there and back, very fast."
I walk away, remembering the route to the museum; Right, right, left, straight for a couple hundred metres, right, left, straight for 300 metres, then your destination will be on your left. Easy.
I get to the first main intersection and that's where I'm introduced to the scooter mob that is SE Asia. Oh my God. Never have I seen a thing like this before. The sheer volume of them was astonishing to me. At first all I could do was giggle because back in Canada only a few people drive scooters, it's not nearly as prevalent, because of the vast distances and winter conditions that make it less convenient to own them. I stood at that intersection for a couple minutes in utter awe taking a video to send to family and friends. And that's when I felt it. You know when someone is watching you? It feels like there are eyes burning a hole in the back of your head. Yeah, that's what I felt. As I turn around I see a man on a scooter. It's Dao. He's followed me this far and begins to pressure me when I acknowledge him again.
"Sir, please let me drive you there."
"No thank you."
This time I am quite frank and continue towards my destination. Left, right, straight, right, left, left… Shit, where was it again? I don't want Dao to know I've forgotten which way I'm going so I keep walking. I never could perform under pressure and with this guy breathing down my neck I'm finding it difficult to remember the directions.
His insistence went on for what felt like 10 minutes and before too long I figure I'm lost. I see a massive park in the distance and think I might be able to lose him if I cut through there. I start walking faster and I feel like he knows what I'm trying to accomplish so his tactic takes on a more desperate tone on the home stretch towards the park. He lets out one more frantic attempt to get me on his scooter before I seek refuge in the nearby park. As I enter under the massive canopy of the trees, I see him pull a U-turn and drive away. With that I'm finally able to pull out my phone and figure out where I need to go to correct the wrong turns I took. As it turns out I haven't veered too far off my path and I'm only a 15 minute walk from the museum.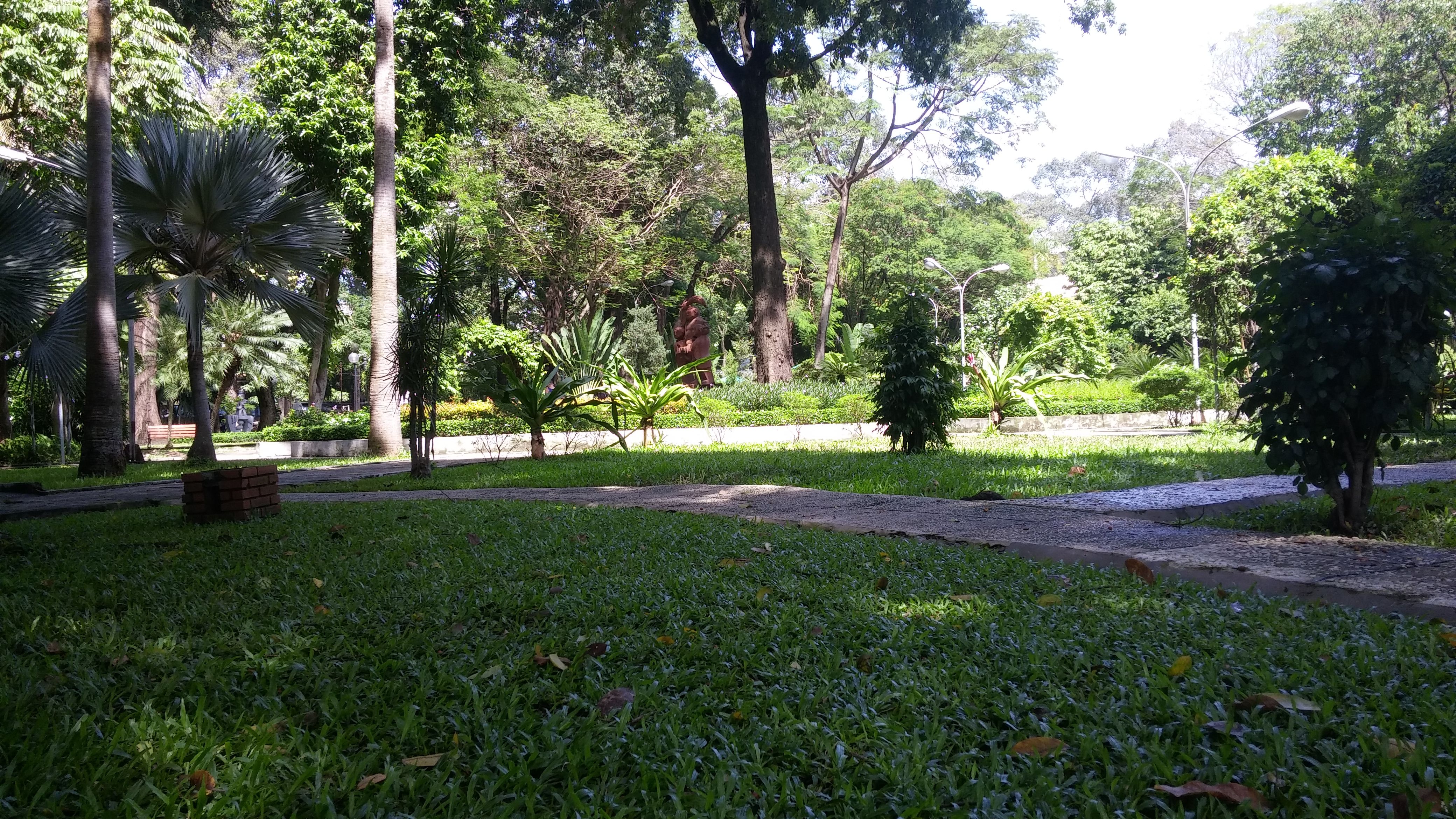 The park I escaped in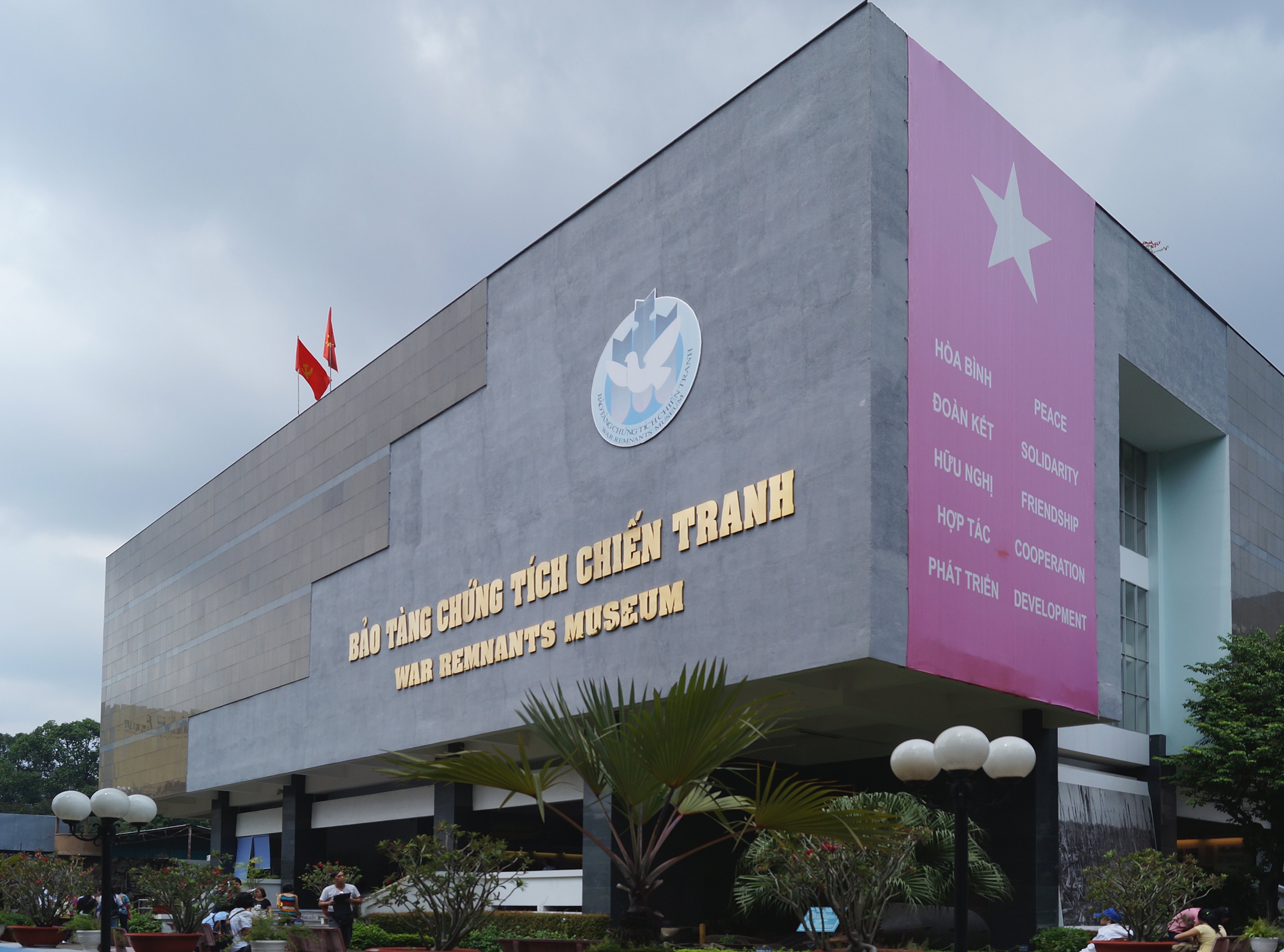 As I reach the museum I go to purchase a ticket, but being an inexperienced traveler and having only read a handful of posts on the internet from people(probably from early 2000) I decided to only exchange for USD when I left Canada. Silly mistake because although most places are willing to accept USD, this museum was not. This was a common trend through the first few weeks in Vietnam for me, until I got rid of the USD. Off to find an ATM. As I turn around to leave the lady tells me they are closing for lunch, but will reopen at 1:30 PM. That's fine, I could definitely grab some lunch in the meantime.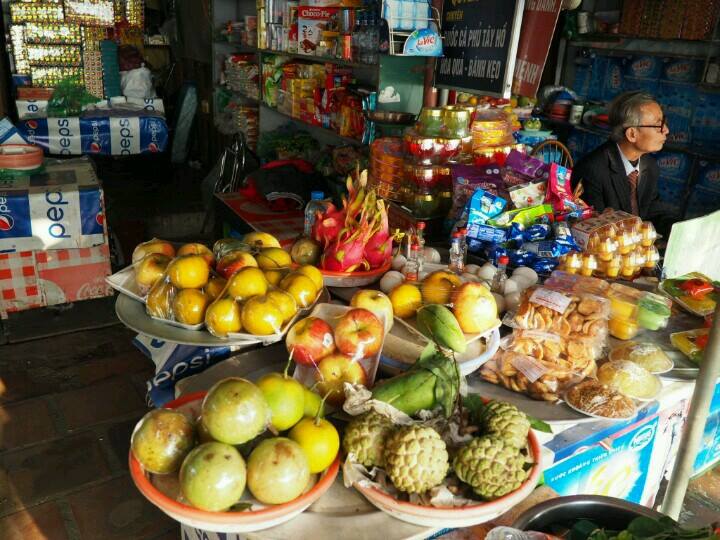 A local market selling various fresh fruit
I find an ATM not too far down the street, get some money out, and notice my stomach is grumbling(perfect timing), so I look for the nearest place with a decent vegetarian menu(most things have meat or are made from meat, so it was a little difficult) and begin to feast.
I return to the museum and finally get my ticket. It cost about $2 Canadian, which is a steal even if I have to leave by 3:30.
One of the main reasons I wanted to go to the War Remnants Museum is because growing up in North America we are always informed of the reasons why The USA were involved in the Vietnam War. All we know is a one-sided account of the war and an extremely censored version at that. That being said, you can only prepare yourself so much for what you are going to see inside a place where they're trying to expose what The United States has been trying to cover up for so long.
As a respect, I decided not to take any pictures inside the museum as it made me feel a bit uncomfortable doing so.
Once inside you are able to move freely among four floors, all showcasing different aspects of the war and its effects, past and present. Everything from propaganda posters and victim accounts of raids on their villages to the effects of Agent Orange on the Vietnamese people.
If you're unaware of what Agent Orange is, I've provided a link to the Wiki page.
I was horrified to learn about all the truly fucked up things that happened to the Vietnamese in the war at the hands of the Americans. One of the things that stuck most with me was the room dedicated to all the people who were, and still are, affected by Agent Orange. Upon entering the room, I looked down to my right and inside a container, submerged in a preservative of some kind was the body of a baby who was a casualty of AO. But this is the reality we don't know about, the brutal, disfigured reality that has plagued the Vietnamese since the 70's.
If you go to Ho Chi Minh City and you want to learn more about the Vietnam War, I suggest you visit the War Remnants Museum. It's cheap, full of articles, pictures, and more, and will give you a better understanding of the war that changed a country.
653 total views, 1 views today